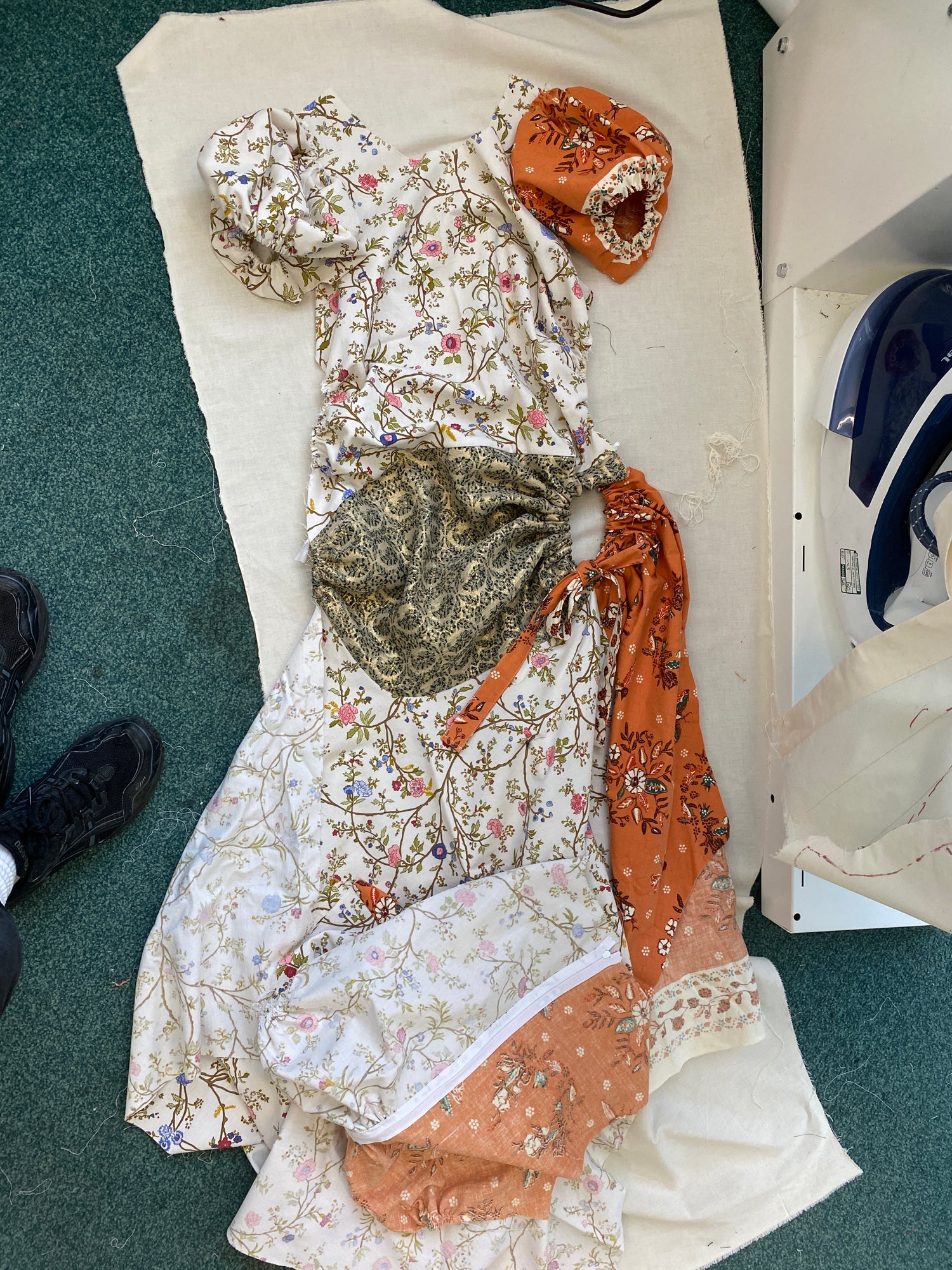 WED LOOP - Mab George Sanders
WED had the privilege of designing a dress for the talented installation and performance artist, Mab George Sanders. We created a bespoke WED signature Flag Dress using carefully selected vintage fabrics that Mab had collected. With great attention to detail, we meticulously patchworked the fabrics to achieve a perfect balance in design, and ensured high-quality finishing.
About Mab George Sanders
"Mab George Sanders is an installation and performance artist who's illustration style runs through makeup, fashion, performance and film to generate immersive environments with families of characters. 
Sanders shows self-styling and getting dressed as a sacred ceremony, revealing the ritualisation of the mundane and domestic we take for granted as key to develop our introspective understanding of art, design, commerce, ourselves and each other.
The main themes in Sanders work are struggle, humour and confusion, playing out as folkloric fairy tales tied to the ancient natural landscape he draws inspiration from.
A naive aesthetic and childlike raw instinct to forage and collage prompts a softer slower way of thinking that allows more space to process the unknown: scratched and scribbled faces, disintegrating garments and misplaced natural artefacts echo half-memories of scarecrows, puppets and pantomime, finding something human in the crafted and reformed. 
With inspirations such as Beatrix Potter, Charles Altamont Doyle and Brian Froud, Sanders as a poet and a storyteller abstracts myths and legends into fragments; having developed her own practice from a background in menswear design, catwalk shows fell apart into happenings in disused spaces and art galleries. Now Sanders joins her models as a performer, taking energy from multidisciplinary artists such as Jose Perez Ocana and shapeshifters like Olivier de Sagazan.
Sanders as a witch uses her spiritual connection to pre-christian Britain to enchant and excite, removing the audience from a real modern world to consider an imagined rite of passage."